How to Plan a Dazzling 4th of July Celebration
Seasonal & Special Events Ideas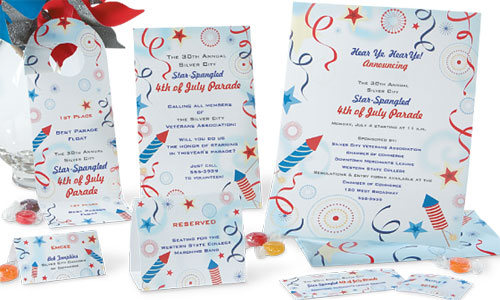 Everyone starts dreaming about the 4th of July weekend as soon as it's warm enough to leave the jackets at home. Make this year a special celebration to remember with a personalized party from 4th of July paper supplies and these great ideas!
Plan Ahead, Way Ahead
Don't miss the fireworks while stressing over the food and activities; plan menus and games that can be made or set up in advance, leaving the 4th for relaxing and socializing.
Print custom menus to place on the buffet or at place settings to get your guests excited about the meal in store.
Speaking of guests, some people make holiday plans months ahead of time, so send out party invitations early. Choose from themed stationery, envelopes, and even mailing labels to get things off to a fun start.
Pick a New Theme
Chances are you've been to more than one red, white, and blue BBQ party. There's nothing wrong with the stars and stripes on this patriotic weekend, but you can still have a flag or two while choosing a unique theme that your guests will love. What about a tropical luau party? Or maybe a retro disco theme, or jump ahead to Christmas in July!
With stationery, you can customize the theme and put an unexpected twist on the traditional 4th of July party.
Vote for Your Favorites
Use your freedom to vote and the themed certificates as a fun party game for the whole family. Create certificates for wacky categories, like "Most Patriotic," "Best Griller," or "Best Potato Salad" and ask guests to write their nominations on slips of paper. Have prizes ready for the winning guests once all the votes are tallied!
It's not too soon to start planning a dazzling 4th of July party your guests will remember well past summer. Get your 4th of July paper supplies from Paper Direct for a personalized touch this holiday weekend!