Christmas Party Planning Tip #3 – Reserve The Venue

You're not the only one in town planning an amazing Christmas party. It's time to finalize your party venue location and put down a deposit before someone steals your favorite location. But before signing any contracts, use your savvy business skills to negotiate the best deal possible.
Here's a few questions to ask the venue's event coordinator:
Are appetizers for a cocktail hour included if the high-end catered meal is chosen?

Does the venue have a house band that can play during dinner in lieu of hiring an outside band?

If we pay to have a cash bar set up just for our guests in the party room, is it possible to upgrade the liquor choices at no additional cost?

If we serve a full meal, in lieu of appetizers-only, can you include a complimentary dessert?
By asking for a package deal, or a combination of services and goods, you're more likely to get a discount on one or more items you need!
Now that the venue is locked in, start designing your holiday programs. Include the name of the venue, party date, break down of the festivities by time (cocktail hour, dinner, dancing, etc.) and brainstorm a list of people to thank for making the party possible.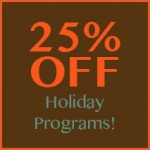 Ready to get started? Paper Direct is offering 25% off holiday program printing this week.
Use code WCRT1014B at checkout to get this special offer.
Looking for more Christmas party planning tips? View our entire guide.