Christmas Party Planning Tip #5 – Planning the Menu

Don't deny it: One of the best parts of party planning is thinking about the food! Before you start scheduling food tastings, there's a few things to think about when you're serving dinner to a large group:
What's my budget?
Break it down by how much you can afford per plate or person, since that's how caterers will charge you.
Tip: Don't be afraid to ask for discounts if you have a large group.
What type of food should I serve?
Sometimes it's fun to have an ethnic food theme or go with a regional classic made by a local celebrity chef.
Tip: Be sure to have vegetarian options, gluten free options, etc for the variety of diets your group may have.
Can my caterer accommodate dietary requests?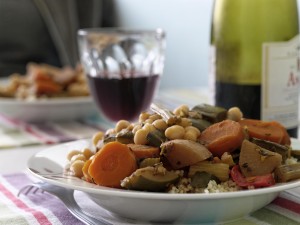 Be sure to ask about vegetarian, vegan, gluten-free and diabetic-friendly menu options.
Tip: Even if your entire team are carnivores, an employee's spouse may not be. If you're not sure, check before planning the menu.
Will individual plates be served by wait staff?
Or, are you thinking about having a buffet or tapas style serving carts brought to each table?
How will alcohol be handled?
Will you offer a cash bar, include all drinks for guests or hand out drink coupons so each guest gets a set amount of beverages gratis, then pay for additional beverages?
Tip: If you're planning on letting the booze flow, consider setting up discounted taxi rates for your employees.
Once you decide what type and style of dinner you're hosting, let the guests know. Include dinner information on the holiday party invitations, including meal choice options, if desired.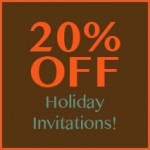 Enjoy 20% off holiday invitations by entering code WCRT1014B at checkout.
Hurry! This offer only lasts one week.