Christmas Party Planning Tip #11 – Last Minute Checklist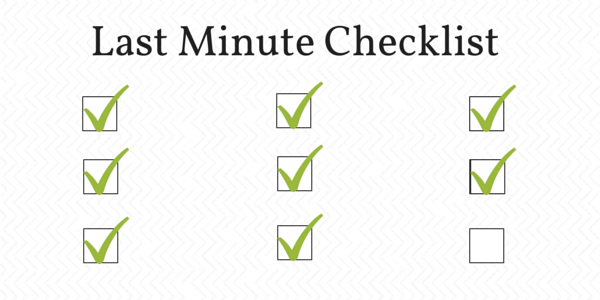 You've collected the RSVPs and the big Christmas party is just around the corner. To make sure you've got everything in order take a big breath and go over this task list ASAP!
Count the RSVPs one last time and update the caterer with the final number.
Make sure the venue's audio system is compatible with the DJs technology needs. (Speakers, screens, etc.)
Ask the DJ for a final set list so you can approve the music.
Pick up certificates from the frame shop.
Wrap door prizes and employee awards.
Rehearse speeches.
Give an outline of events to all speakers and presenters.
Confirm all details with the party venue including building access times.
Write out thank you notes for the vendors.
Confirm liquor order and hired bartenders' schedules.
Send a party reminder email to confirmed guests.
Did you forget to order gifts or awards? We've got you covered! This week take 30% off all gifts and 15% off Post-It Notes for the party. Use code WCRT1214B at checkout to receive this special discount!