6 Trendy Wedding Themes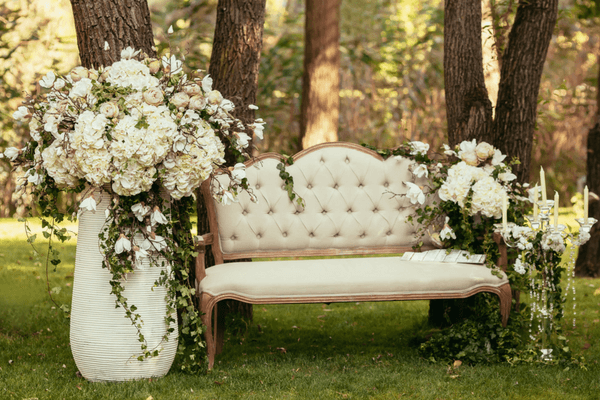 Planning a wedding can be some exciting business, and that business gets even more thrilling when your plans revolve around a fanciful wedding theme. We checked out some of the hottest trendy wedding themes on the scene for 2017 and 2018 and are sharing our six favorites below.
Vintage Art Deco Theme
Popularized by an array of period dramas on the big screen and TV, the vintage art deco wedding theme continues to remain a fan favorite. Snag ideas for this theme by thinking of all the glamour, glitz and intrigue associated with "The Great Gatsby" and the Roaring Twenties.
Lace mermaid wedding dresses, pinstripe suits, fashionable hats, bold lines, geometric shapes, and lots of bold colors help to highlight this fun theme. Gold, black, and white are ideal color choices for venue décor and invitations.
Boho Wedding Theme
Short for bohemian, boho typically refers to someone much more interested in showcasing her unique artistic flair than conforming to common standards. And, as one of the most fun wedding themes, the boho vibe means anything goes.
Feel free to mix, match, mashup, and mingle any number of different styles, colors, decorations, and desserts with this fabulous freestyle wedding theme. Bring them all together on a natural woodsy backdrop, and you'll be creating the most memorable eclectic space.
Rock Goth Wedding Theme
While this theme is certainly not for everyone, it is definitely one of the most striking trendy wedding themes we ran across. Purple and black are the colors of choice for this theme, and it's more than okay for the bride to don a wedding dress of either color (with white accents if she's feeling rather demure).
Other highlights of this wedding theme include skulls, spikes, chrome finishes and all things dark and dramatic.
Forest Wedding Theme
Tall trees, warm embraces, and a natural yet mysterious edge are all elements found in a forest wedding theme. Having a natural forest as a backdrop is a must, of course, as is using the natural landscape as a guide on how to arrange and decorate. Add pops of color in key areas, include forest-themed or recycled paper invitations, and make sure to light tons of candles for that phenomenal romantic glow.
Fairy Wedding Theme
Punctuated by natural woodland elements and glorious flower displays, the fairy wedding theme is a mix of the forest and boho themes with a little bit of fairy dust thrown in. Add the fairy dust in the form of floral invitations, a rhinestone bridal tiara, elaborate candelabras and tableware against a woodsy backdrop, lavender mood lighting, and any other fairy-like ideas your imagination stirs up.
Watercolor Wedding Theme
You know that soft, sensuous, warm and welcoming look that comes from a canvas cascading with watercolor paints? That's the overall vibe you want for a watercolor wedding. While the bride is more than welcome to wear white – try a palette of inviting pastels for tablecloths, flowers, announcements and other accents.
Picking one of these trendy wedding themes, or using them as a springboard to create your own theme, can truly make planning – and attending – the wedding an event to remember. Make it all the more memorable still with professional wedding stationery from PaperDirect.