Why You Need Office Snacks for Your Employees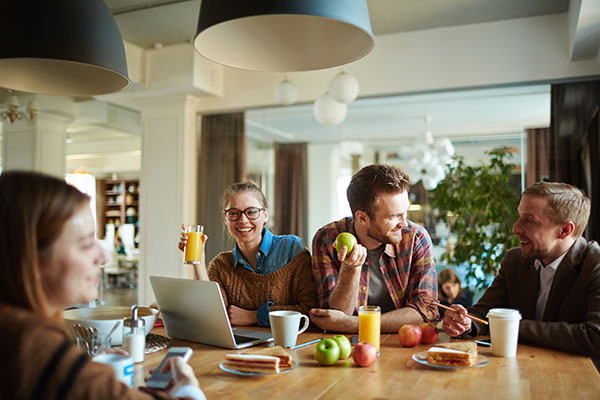 Businesses offer a wide range of benefits to make their employees feel appreciated. However, nothing quite wins workers over like free food. "Because when it comes to employee perks, few things are as simply satisfying as free food and drinks — which, it turns out, are also just good business," Hadley Malcolm shared in USA Today. "According to a new survey, companies that provide free food have happier employees compared with those who do not get to chow down on their employer's dime."
Discover why office snacks for employees help your bottom line more than you know.
Encourage Healthy Eating
It might not seem important to encourage your staff to adopt healthy habits, but as an employer, you contribute more to their well-being than you realize.
"Employers need simple, low-cost ways of helping employees make healthy choices," according to an article from earlier this year published in the Harvard Business Review. "The effects of poor health and obesity cost U.S. companies $225 billion every year, according to the Centers for Disease Control, and this number is quickly rising."  
When your employees eat healthily, they stay focused on their work for longer periods of times and increase productivity.
When your employees eat healthily, they stay focused on their work for longer periods of times and increase productivity. Additionally, eating healthy improves mood, meaning morale in the office will be higher. With services like SnackNation, it is cost-effective and easier than ever to provide free, healthy office snacks for employees.
Boost Office Comradery
With free, healthy snacks available in a communal area in the office, employees will certainly gather every now and then. As your staff begins to hang out in the breakroom, bonds will form, and these people will develop deeper connections to one another. It is strange to think that free food can work as a team building tool but something as simple as a regular snack break every afternoon can be enough to nourish those workplace relationships and leave you with a better-functioning workforce.   
Increase Employee Motivation
"While the majority, 56%, of full-time employees are 'extremely' or 'very' happy with their current job, that number jumps to 67% among those who have access to free food, the survey of more than 1,000 full-time office workers found," Malcolm reported in USA Today last September. "Though just 16% of employees said they get free snacks and treats at work."
It is simple: people LOVE free food.
It seems so cliche and obvious, but it is a widely-accepted truth for a reason. Employers who provide office snacks fro employees make these individuals feel valued and appreciated, which in turn, motivates them to do their best work. It is a win-win for everyone.
Save Precious Time
Think about all of the moments throughout the day when employees leave the office to get something to eat. Having snacks and beverages available in the workplace reduces the amount of time wasted on trips to convenience stores, markets, and fast food restaurants. 
Yes, these new expenses might seem pricey at first. In the long run, though, your business benefits from providing free office snacks for employees. It is a small gesture that can make a big impact in numerous facets of your company.