The Top 6 New Year's Resolutions For Work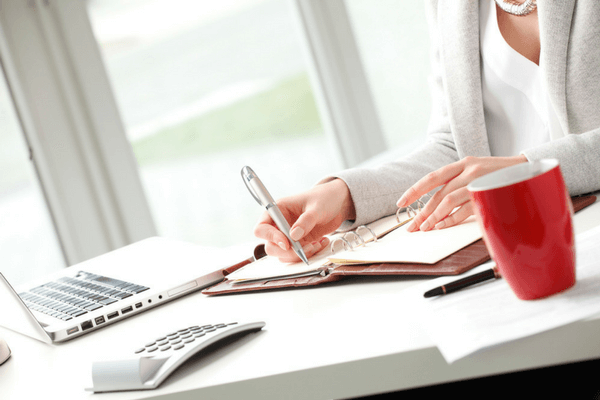 You've made it through another 365 days at the office. Are you ready for the next round? Before you start writing January dates on all of your business correspondence, map out a few New Year's resolutions for work.
The American Psychological Association says the key to making these ideas work is by starting small, making changes one at a time, asking for help, sharing your accomplishments with others, and remembering that you are a work in progress. Never down talk to yourself for taking a step backward or not meeting a goal. As long as you're moving forward overall, every small step counts!
Workplace Changes to Make in 2018
After you're done vowing to help wash dishes in the break room, and limit yourself to one piece of cake per office celebration, get down to business with these productivity-focused New Year's resolutions for work that will boost your 9-to-5 happiness and creative output.
1. Be on time, every time
Reduce stress and anxiety by being early to a meeting or conference session. You'll gain a few minutes to network and settle in, which reduces stress and sets you up for an attentive meeting. Set an alarm on your cell phone and notification on your digital calendar as added reminders.
2. Try a new problem-solving approach
We know that staring at a computer screen when you're stuck just doesn't work. This year, take a new approach to problem-solving. Get up and go for a walk. Or, close your eyes and meditate. When the boss asks what you're doing, say, "Brainstorming solutions for X." You'll earn brownie points for honesty!
3. Share a daily compliment
Find the positive in whatever is going on at the office, even on the most stressful days. Whether you share kind words with your cubicle mate about her new hairstyle or feel bold and speak up to a superior about an idea of theirs you admire, talking about good things brings the positive energy level up a notch in the office.
4. Audit your workflow
Take a peek at your calendar and see where your time leaks and how much time you realistically need for specific ongoing tasks. Tighten up your workflow (or revamp it if you've been following the same routine for years) to coincide with your most productive, energetic moments. It doesn't make sense to leave your toughest tasks for 4 PM!
5. Learn from others
Make it a point each week to observe a project or task someone else is doing and learn more about it. How does it feed into your role and tasks? Can you do anything differently to make their job duties run smoother? Think beyond your work responsibilities to get a better overall understanding of your company as a whole.
6. Address your weakness
We all have one. Do you keep trying to make time to follow-up with clients, but it always gets put on the back burner? Have you been lax about filling out weekly reports? Consciously figure out how to integrate these duties into your day so they no longer get left behind.
To get in the right mindset for achieving your New Year's resolutions for work, restock your desk with personalized note cards, stationery, and sticky notes. Browse PaperDirect today!