All About Stationery Designs
Designing Your Business Communication
When you walk into a store that sells stationery, you expect to find certain things.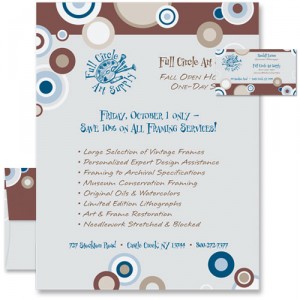 Usually, you'll find topical stationery that appeals to the masses, whether it be scenic, comedic or oriented towards a specific theme. And you may even find matching envelopes, and have it all wrapped up in an elegant box all tied off with a bow. But when it comes to stationery designs that exemplify your real interests, especially when you're representing your business with it, odds are the off the shelf stationery at the department stores simply isn't going to cut it.
Stationery is supposed to show others who you are, and when it comes to presenting your business, your entire business has to be pretty much condensed into one sheet of paper. Adding logo and unique font to a stock design can deliver all the elements you need shown. You can also completely design your stationery online to create all types of business stationery including letterhead, business cards, notes and envelopes that really do represent your interests and business.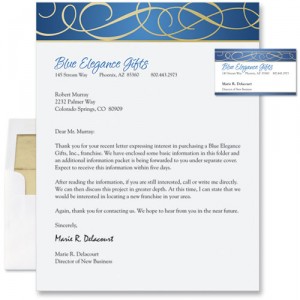 While most stationery uses a common layout with the "interest area" at either the top or down the left side, there are no hard and fast rules that define how your information has to be represented. What you will want to do is sit down with a blank notepad and define exactly what you want where. Do you want your name on it or just your business info? Do you want a particular paper color? Can your information be represented with one image, graphic or logo, or will more be needed? And do you want your interest areas to block out areas on the page, or can they be watermarked in, light enough to be written over legibly but dark enough to be recognized for what it is.
And when it comes to designing the other parts of the stationery package, the envelopes,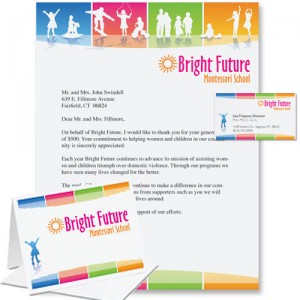 notes, business cards and other accoutrement, those same questions need to be answered for each piece. While you may have your name included as a header on the letter sheet, it may need to either be moved on the envelope or not included at all on the note card.
Having the ability to create your own stationery set is totally cool. Not only can you actually have stationery that represents your needs, you can have a great time sitting down and going through the design process. No longer do you have to settle for off the shelf, limiting designs. Now you can be your own artist and get stationery you actually will use because it actually is something you like and that really does fit your needs.