How To Design Your Own Business Card
Designing Your Business Communication
While the days of the business card appear to be numbered, don't let appearances fool you.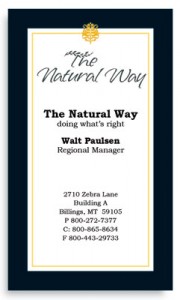 While people use PDAs, email and smart phones to move data around, nothing is as easy to pick up, carry and hang on to as a simple business card. Even though we see business cards virtually every day, most people don't think twice when it comes to how to design a business card, but a business card can be the most important marketing tool you have in your arsenal. Designing it right can make the difference between not getting a sale and making a customer for life.
Let's face it, the basics of a business card are simple. It needs to have contact information on it so the person who has it can get in touch with you. That means it'll need to have your name, address, phone number, email address and other up-front connection information on it. Secondary information such as a physical address is important if people need to come by a storefront or office as a contact point, but in today's decentralized office/business world, that information is less important than it used to be.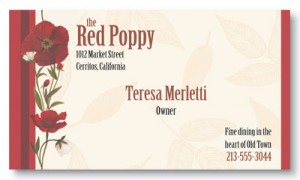 However, other elements can be important, especially if a physical address is necessary. Putting a little map on the back to guide visitors to you may make sense, while other information that could be out of the ordinary may make sense to include as well. Sometimes, HAM radio information can be important, state, federal or occupational license information may be needed, and other industry specific information could well be included.
While some cards are strictly informational, others are designed to push products or services as well. Simply having your name and contact information may be too minimalist, especially when you're trying to encourage the recipient of the card to contact you for sales information. Having a list of services or available products or brands will not only encourage the person to keep the card, but to use it if the services or products fit their needs.
Lastly, when it comes to designing a business card, make sure it is easy to read all the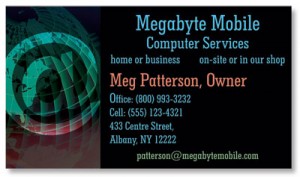 information on it. Having a hugely artistic card is nice, but if the client or customer can't make out the contact information, that makes it almost useless in terms of being a sales tool. Also, using the same kinds of principles when designing a business card as you would for any other office document is also important. Keep it straightforward, informative, useful and worth keeping are all traits of a great business card. See what you can put on your card that would make you want to keep it. These are the concepts that will cause your potential clients and customers to keep it as well.