5 Tips for Developing a Company Brochure
Designing Your Business Communication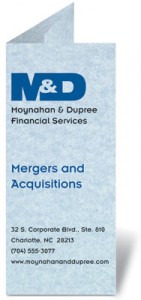 Company brochures are like the paper version of the "About Us" on the web. There's a lot of information that has to be delivered in a small amount of space, and that means being efficient as well as being effective at giving the person holding the brochure a reason to call. Designing your company brochure right the first time means customers in your pocket. Here are some design tips that will help you in your design process:
1) Use Tri-Fold Brochures
Tri-folds give you more bang for your buck when it comes to getting information in front of the customer. Instead of 2 sides like a flyer, or 4 sides like a bi-fold, a tri-fold gives you up to 6 sides to put info on. That should be plenty of space to get your messages across.
2) Use your company colors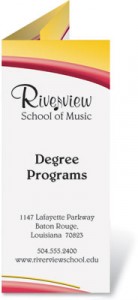 You chose your company colors for a reason. They represent your company as much as anything else does, so using those colors throughout the design of the brochure creates an overall theme or feeling that the customer will get
3) Use pictures and graphics
While getting a lot of data in front of a customer is important, using pictures and graphics keeps the brochure from becoming too dense. Not only that, but a picture of your products, facilities or equipment shows the customer something about your business that may take way too long to bring out in text.
4) Make contact information easy to find and read
By making your name, address, phone number, email address and website info easily readable and findable, customers don't have to work to contact you. All too often, a great brochure buries the contact info and customers don't call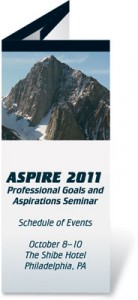 5) Use good quality paper
Customers subconsciously relate paper quality to business quality. If you use good paper, heavier than usual stock or slick, then the customer will equate that with a higher quality product or service and be more likely to call.
These are just a few tips that should help you to come out with a brochure that customers will find informative. Leave the customer wanting a bit more info about the product or service, but do give them enough into that they are interested. There's a balance there, and once you find it, you'll have customers calling left and right for more. And, calls equal sales!