Get Your Business' Word Out: How To Start a Newsletter
Marketing & Sales Promotion Techniques Online Marketing Ideas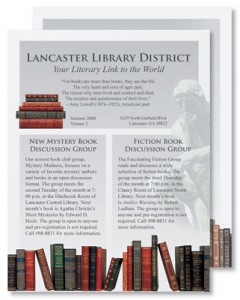 Paper newsletters are an excellent way to show your customers that you care enough to take the time to organize and send out information using something that is rarely used these days–snail mail. Here are some suggestions on how to start a newsletter people will read:
Come up with a catchy name for your custom newsletter (avoid something like, "My Business' Name News")
Present the information in an objective manner
Your newsletter should be a soft sell–not full of sales hype and propaganda
Write as if you were a neutral third party
Use quotation marks to identify testimonials and opinions
Use informal, conversational language–avoid the thesaurus when writing your newsletter
Don't assume readers will know what your acronyms stand for
Proofread carefully–typos and other errors will turn off prospective customers
Make the front page appealing–place your most interesting information on the front of the newsletter (if there are multiple pages)
Use one graphic, at least, per page
Jazz up your newsletter with color
Use an easy-to-read and large enough font
If you are trying to market your new business, you might learn how to start newsletter. You can view our entire line of newsletters and choose the one that works best for you.