Writing the Resumes that Get You Hired
Designing Your Business Communication
If you've been sending out a lot of resumes and not getting a lot of responses, it may not be your job history or skill set that's the problem. It may be time to look at how your resume is designed and worded.
In a competitive job market, it's imperative to have a creative, succinct resume that stands out because many employers sift through hundreds of resumes for each position advertised, and only the outstanding ones are going to get noticed. You have to consider many factors before putting together the resume that gets you hired.
Since your resume is serving as your publicist, it should reflect your personality and serve as an example of your talent. Resumes that get you hired have a distinctive style yet are easy to read. The design should be appropriate for the position for which you're applying, and the content must be well organized. Avoid cutesy graphics, cartoon-like fonts, and unclear illustrations, and always keep in mind that more is not usually better in the world of resume creation. If your resume has too many components to it, the reader will likely be annoyed. Be thorough and thoughtful but be succinct.
Here is a checklist to use as a guide for what to include in your resume:
Personal information (name, address, contact information including emails and phone numbers)
Career chronology (in reverse chronology: date, company, position, responsibilities)
Education (in reverse chronology: degree, major or concentration, name of institution and year of graduation and only include high school if the job you're applying for does not require any education beyond high school)
List of awards, associations, affiliations, organizations, publications
Skill set (Be specific when it comes to computer proficiencies–long gone are the days of "Internet savvy" or "Word proficient" as these sayings are much too vague now. Here, you can include specific programs and software you are proficient in and list any licenses or certifications you hold.)
One optional inclusion is an objective, but if you include one beware of being too general or too specific. If you choose to begin your resume with an objective, be sure to have some combination of the following information: the skills you have and want to use, the type of position or industry you want to work in, and your short- and long-term goals. Another optional inclusion is a list of your personal interests such as hobbies, sports or clubs in which you participate. If you choose to include this section, you must keep it professional.
In order to write the type of resume that gets you hired, you must have quality resume paper. If you decide to adhere to a more traditional style for your resume, here are 3 sample resumes to get you started.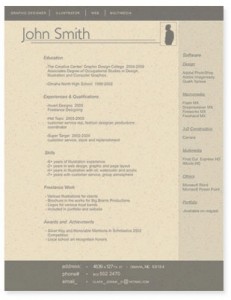 Paper Direct has all your resume-writing needs including stationery, envelopes and business cards.