Direct Mail Tips to Boost Business
Marketing & Sales Promotion Techniques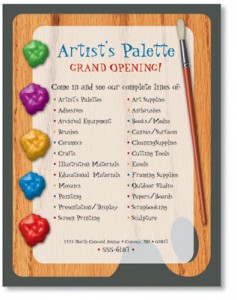 Some business owners are hesitant to undertake a direct mail marketing campaign because this means of promoting your business can be costly–if not done properly. The key to a successful direct mail campaign lies in the approach, and good planning will minimize the costs of your direct mail campaign while maximizing profits for your business. Here are some direct mail tips to get you started.
Buy a business mailing list from a reputable company. Watch out for companies selling what are called "dirty" lists (false leads) that are only trying to make a fast buck. If you are looking for a targeted consumer or business mailing list, ask and shop around, and be sure the company you choose has good reviews and stands by its product.
Use quality paper, postcards, brochures, and envelopes.   A great design on low-quality paper will likely be tossed into the trash. If necessary, hire a professional graphic designer to get your design and logo on your mailing materials. Be creative and don't cut corners here because you will end up  losing out in the long run. A professional designer will lend credibility to your marketing materials and is a good investment. Make sure your materials don't have streaks or poor color quality. Before investing in hundreds or thousands of printed marketing materials, ask for samples of the printing companies' work. Choose a printing company that will deliver your direct mail materials. By choosing a printing company that also does the mailing, you will save time and money because the materials can be addressed as they are printed. A good printing company will know printing regulations and prices and should be able to get you a good deal on your bulk mailing.
Write well. If your direct mail marketing materials have misspelled words and typos, then you can be certain they will end up right in the trash. Would you trust a business that misspelled something in their advertisement? If you don't think you write well enough to produce flawless material, then hire an experienced, professional copywriter to do the job for you. You won't regret spending the extra money.
Test the market before undertaking a large direct mail marketing campaign. If you mail materials to a small audience and don't get a good return, then you may want to rethink a larger audience.
Follow up on your mailing list, if possible. Maybe a week or so after the initial materials go out, you can send a follow-up postcard to recipients offering a discount or buy one get one free deal. Here are some more direct mail marketing ideas for you.
PaperDirect is your source for postcards and printable papers.