Are Brochures Effective Marketing Tools?
Designing Your Business Communication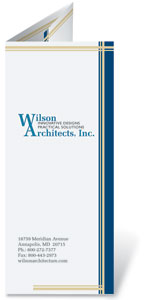 In a world where just about everything in the business world is "electronic," is there still a need for "paper" marketing tools such as flyers, brochures and old-fashioned, printed newsletters? PaperDirect says Yes! We believe that no matter how popular online marketing and other forms of electronic communication and marketing has become, there will always be a place for good, old-fashioned face-to-face delivery of  information about your product or service to a potential customer. Whether you hand them out, mail them, place them in your office, or post them in public places, brochures will always be an effective marketing tool for businesses both large and small.
PaperDirect has several different types of brochures that would make very effective marketing tools. Before we tell you about the different types of brochures we offer, let's discuss what brochures should include to get them noticed and to use them as an effective marketing tool for your business.
First, the brochure must look good. An eye-catching design, with vibrant colors and your company's logo should be the first things the consumer sees. Of course, it's imperative that you choose a font size and style that's easy to read. Brochure designers will offer many suggestions, and it'll be up to you to choose your colors, style, font, etc. But why not choose yourself from PaperDirect's vast selection of brochures?
Be sure your brochure's colors match your company's colors and remember that more is not always better. Keep it simple, clear and attractive. Tell the consumer what you offer and be clear about your product or service. If you sell golf clubs, then make it obvious that you sell golf clubs. If you get too creative and don't get to the point on the cover of the brochure, your potential customer will lose interest. Being vague is not going to help you increase your customer pool.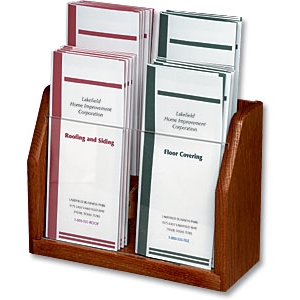 Explain why the consumer should choose you. What do you offer that the competition does not? What makes your business special? Maybe you can offer a first-time buyer incentive such as a coupon or frequent purchase punch card. Buy nine cups of coffee, get the tenth free or something similar to that. Refer a friend and get 20% off your next purchase. When people feel they're getting some kind of deal or feel their business is appreciated, they will not only be a repeat customer, they will tell their friends. Show them your appreciation by offering a special deal to save them money because in the long run, saving them money will make you money. Wouldn't you rather have a customer come back over and over and you make a little less money with a coupon than the customer come one time only and you only profit once? If the customer brings in the brochure, you should definitely offer some type of special offer. This will also give you the opportunity to see how effective your brochure was as a marketing tool.
Brochures should have all of your contact information including company name, your name and title, phone and fax numbers, website addresses, emails, and address. Include your hours/days of operation and if possible, include a map with directions to your location from surrounding areas.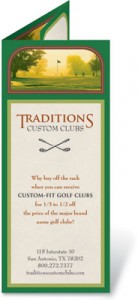 Brochures from PaperDirect
Now let's look at some brochures you can order from PaperDirect. You will be amazed at our wide selection of brochure styles, and you can order online at any time. We truly are your one-stop shop for everything your business needs to get up and running.
Three-panel brochures (tri-fold) are hugely popular. PaperDirect has three-panel brochures for just about every occasion imaginable. But if you're using a brochure as a marketing tool and not for announcing a holiday event or birthday party, you will want to choose a simple design–one that fits your business. If you run a funeral home, for instance, you would want to avoid vibrant colors and a perky design. It would make more sense to choose a more serious design and basic colors to match the "tone" of your business. If you sell party accessories, then you would look into a flashier brochure design with lots of colors and a "fun" design.
We also have four-panel brochures that allow you to include more information and images. If you own a beauty salon or day spa, a four-panel brochure would provide plenty of space to list all of your services and prices. You could even include photos of staff members and a brief bio for each.
PaperDirect also has brochure cover jackets to house your brochure. These come in packs of twenty, are durable and attractive. Potential customers will surely be impressed when they receive their brochure in an elegant brochure cover jacket.
Brochure displays are a nice touch for your business' reception desk or your office. From the simple brochure holder to more elaborate brochure racks, PaperDirect has several brochure displays from which to choose. We have an eight-pocket wooden brochure holder than can hold up to 240 brochures!
Brochures are an effective marketing tool. Consumers will feel a closer connection to your company if they have something in their hand (rather than their "in box") about your products and services. Give brochures a try. We're sure you'll see that they make for an effective marketing tool.