Low Cost Holiday Marketing Tips
Business Marketing Ideas Marketing & Sales Promotion Techniques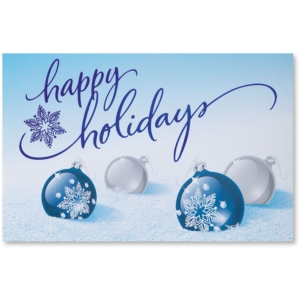 Why not think a little "out of the box" this holiday season when it comes to marketing your business at this festive time of year? There are many inexpensive ways you can market your business during the holidays that will get the word out about your company to a lot of people in a short amount of time and not break the bank.
Google has been dressing up its logo with various themes in the last few months, so why not steal this idea and dress up your website logo with a festive holiday theme?  Snowflakes around your logo or a holiday-themed background are simple ways you can dress up your website for the holidays.
Personalize items with your business logo. These days, you can personalize just about anything from cookies to socks, so why not put your logo out there when you distribute holiday gifts this year. If you send a box of cookies or chocolates along with a holiday greeting card to your clients, you can do some holiday marketing by including your logo on each cookie. By doing some quick research online, you will find that you can get just about anything personalized with your business logo. This is one low cost holiday marketing tip that really works.
Create a video holiday card and post it to your website. YouTube videos have actually become a low cost (or free!) marketing venue for many businesses, large and small. Pull your employees together and sing a Christmas carol or pose for a still festive holiday photo.
Create a digital Christmas tree and instead of ornaments, hang messages to your customers thanking them for their patronage this year.
Check out PaperDirect for all your marketing needs this holiday season. All you need are some holiday marketing tips and supplies from PaperDirect, your online source for everything your company needs from business cards to Flyers.