Why is Business Stationery Design Important?
Designing Your Business Communication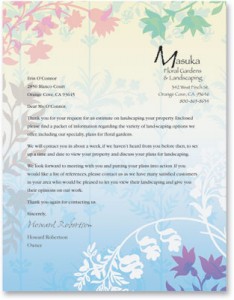 Sometimes, new business owners do not place a great deal of emphasis on choosing their business stationery design, and some don't use any stationery at all in this age of electronic communication and marketing. However, well-designed, professional and attractive business stationery is very important because it not only identifies the business, but it is also an effective marketing tool. Custom designed business stationery demonstrates professionalism and can often attract new clients. When choosing business stationery designs, consider these benefits of well-designed business stationery:
Business stationery projects your company's image. The main purpose of business stationery is to depict the company in a positive and professional manner. Well-designed business stationery tells existing and prospective clients that the business is legitimate and professional. Good quality stationery designs will leave a long-lasting impression; you should consider your business stationery the "face" of your company.
Networking is a crucial part of any successful business. When corresponding with clients and other businesses, your stationery is one of the first things that will be noticed. Also, when meeting potential clients for the first time at a meeting or conference, business cards are the first thing they see from the company. Custom stationery designs demonstrate that the business welcomes and appreciates the client or customer's business.
You can have your stationery design custom made to meet your desired specifications. PaperDirect has an extensive line of business stationery and envelopes from which to choose. You will have a distinctive business stationery that sets your company apart from your competition. Color printed stationery with a unique business logo may catch a potential client's attention and pique interest in your company.
Shop PaperDirect's online store for all your business stationery needs including business cards and business envelopes to match your stationery.