Common Resume Mistakes
Designing Your Business Communication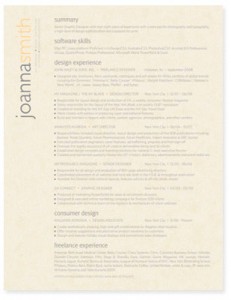 You'd be surprised at how many people submit resumes with mistakes on them. The PaperDirect blog has posted resume tips and advice over the past few months, and now we'd like to point out some common resume mistakes that will hurt your chances of getting called in for an interview.
Many employers feel that if you cannot submit a flawless resume then your work ethic and attention to detail may be less than stellar. If you cannot take the time to ensure your resume is error-free, then how much effort will you put into the job if you got it? Here are the most common resume mistakes employers see:
Typos and grammatical errors. There should be no errors on your resume. Zero. Zilch. Nada. It's that simple.
Lack of specific information (vague job details). If you put a job description on your resume such as "worked in an office setting," you will give your prospective employer absolutely no specific information about what you did or what skills you possess. A more specific, detailed and appropriate wording would be something like: "Worked in a small real estate office and was responsible for scheduling appointments, sending faxes, signing for deliveries and preparing for open houses."
Generic, cookie-cutter resume. Employers can tell if you send the same cover letter and resume to all the jobs for which you apply. While you are not expected to custom design a resume for every single job you apply for, you should tailor it a bit to better fit a job you are going after. For instance, if your resume is all about your experience as a real estate agent, and you're applying for a job as a business manager, you must re-word your resume to fit the position. Focus more on the jobs you had that will spotlight your business savvy and focus less on real estate positions. If you do include an "objective" at the top of your resume, make sure it fits the job for which you're applying.
List accomplishments, not just the duties, you had at previous jobs. For example, instead of "kept minutes at meetings," you should word it something like this: "Used MAC laptop computer to record weekly business meeting minutes, compiled them in a Word-based file, and distributed them to an Outlook inter-departmental mailing list."
Too long of a resume. No employer wants to sift through multiple pages of resume information. While many resume "experts" will say you must limit your resume to one page, sometimes that is just not possible. If you cannot fit all of your information on one page, you can use another page, but don't go on for more than a couple of pages. Decide what can be left off your resume and focus on the highlights of your education and career.
Visually too busy. Avoid using large blocks of text, different fonts and useless images.
Incorrect contact information. This is simply inexcusable. Update your contact information as it changes including phone numbers, address, and email/website information. Just think how devastating it would be to have a typo in your contact information. Proofread carefully!
Read more PaperDirect blogs offering resume tips and advice, and shop PaperDirect's online store for everything you need to find a job including stationery, envelopes and resume paper.