How To Get Customers To Open Your Next Marketing Brochure
Designing Your Business Communication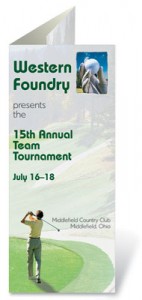 PaperDirect is a huge fan of using brochures to market your business: They're inexpensive, practical, easy to distribute and familiar. In this age of advanced technology and so little face-to-face or "on paper" marketing, the brochure has remained a highly effective marketing tool for both large and small businesses. Have you tried using brochures to market your business, but do not feel they worked as well as you had hoped? Have you never really thought about using brochures to market your business because they'd be too much work to create? Do you only market your business online and with electronic marketing tools?
Fear of the Unknown
One thing that business owners and managers often don't realize is that there are people  who are hesitant about putting their personal and/or financial information on the Internet for fear of it falling into the wrong hands. Many people will not buy expensive items online, and many consumers won't buy anything online. For this reason (and others), it's very important that all companies, especially online companies, have brochures and other forms of printed marketing material to distribute to current and prospective customers and clients.
Consumers expect businesses to have brochures and other "real" sales materials they can put in their hands. Business cards, fancy letterhead and long mailing lists are all great, but it's the creative, vibrant marketing brochure that's really going to pique consumers' interest. A brochure also allows prospective costumers to read about your business at their leisure; if your prospect picks up your brochure at that "right" time, you just may have yourself a new customer as opposed to that same person opening an email right before dinner after a long day at work and hitting "delete" before the first word is even read.
A professional-looking, eye-catching, well-written marketing brochure could do a lot more for your business than you may realize. Let's look at some ways  you can get recipients of your marketing brochure to open it up and really give a good look instead of tossing into the trash bin.
Marketing Brochure Tips That Really Work
The Internet is full of tips of how to market your business, and we have been reading what the experts are saying about marketing brochures. Here's a compilation of suggestions for a variety of marketing gurus: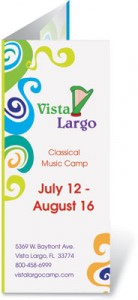 Pretend you're the recipient of the brochure as you design it and write the content. Figure out what your reader would want to know, which may require some research. Think about the nature of your business and what information prospective customers, clients or patients would want to know. Be sure to address those questions and provide as much pertinent information as you can (without including everything there is to know about your business). Organize your brochure in a logical order and be succinct. People tend to scan and will be turned off by large blocks of text. Bullet lists, numbered lists, charts and graphs are all very appealing to the reader looking for information quickly. You can go into greater detail once you get them through your door or onto your website.
Entice your reader to open the brochure and look past the front cover. Offer some reason to open that brochure–a special offer, a one-time only deal and anything else that will pique their interest.
Use language that is easy to understand and avoid technical jargon that the "average Joe" would not understand. Using language that only people in your position would understand will not impress your brochure readers. You must seem approachable and helpful and not pedantic or pretentious.
Include a description of your product or service with eye-catching images, but don't make the brochure too "busy" with too many images. Readers, if bombarded with too much information at one time, will become overwhelmed, and interest in your brochure will be lost. Give just enough information to get the reader to want to learn more.
If possible, include a useful tip or helpful hint type of section. If you sell grills, offer your brochure readers a grilling tip so their next rib eye is the best one they've ever eaten. With a short helpful hints section, the recipient of the brochure is likely to keep it around and not throw it in the trash.
Choose a brochure that you love. PaperDirect has several brochures to choose from including 3-panel brochures and 4-panel brochures in hundreds of designs.
If you want to learn more about how marketing brochures can be used as an effective sales tool, read some more PaperDirect blogs about the power of the brochure: