Attract Festival Business With Fall Banners
Marketing & Sales Promotion Techniques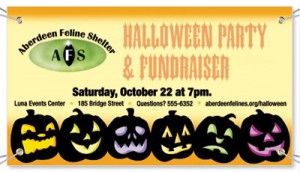 Soon we will all feel that crisp cool air that signals the start of fall, and as anticipation builds for Halloween and all that comes with this favorite kids' holiday, now is the time to pick out fall banners to attract guests to your festival or party. Not only do kids love Halloween but some adults do, too. Does your home transform into a haunted house October 31? Do your neighbors count on you to take the kids on a hay ride every year?
If you're hosting a Halloween festival or an Oktober-festival or just a small party for the neighborhood, you should order some festival fall banners from PaperDirect. Simply choose from one of these fall designs and we'll include your custom message. Announce an Oktoberfest celebration, a haunted house, hay ride, or Halloween Party using fall banners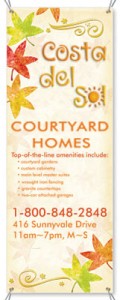 from PaperDirect! We have vertical fall banners and horizontal fall banners to suit every style!
Banners for Advertising
Banners can be a huge attention getter and a great marketing tool if they're used effectively. Displaying large banners with your company name, logo and some type of incentive (discount, coupon, door prize, etc.) is a great way to get people to notice you. Banners, however, must be easy to read, strategically placed, and well designed to get the job done.
Benefits of Banners
The Outdoor Advertising Association reported that people spend more time out of their home than in their home. In 2009, advertisers spent $5.9 billion on outdoor advertising, down from $7 billion in 2008. Most of that (65%) was spent on billboards, with transit (17%) and cinema (10%) advertising making up most of the rest. According to the OAA, outdoor advertising does not have to boring. The OAA recently reported: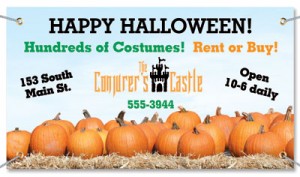 "Alternative advertising is on the cutting edge of out of home. This form of advertising includes ads in stadiums, on gas pumps, bike racks, rest areas, and other non-traditional formats. Alternative advertising provides a unique way to reach consumers in places they may not expect, making it all the more effective. Street furniture, transit, and alternative media formats comprise 34 percent of total outdoor revenue in the US. Some of these formats have a higher percentage of national ads than traditional billboards."
We know that a good advertisement means exposure and customer awareness; visuals are the elements that are viewed first in almost all forms of advertising. We've all seen creative blimps with company logos, large banners with catchy word phrases and oversized balloons that create distraction. PaperDirect has years and years of experience accommodating clients looking to expose their business or products using these advertising techniques. Logos can be customized to any client's specification and placed to your liking.
Experts say that 80% of what we see we remember, and the idea of advertising is built around impulse purchasing that uses display to catch consumers' attention, which makes banner advertising perfect for point-of- purchase advertising.
Check out the large selection of PaperDirect fall banners today!