Holiday Border Paper For Christmas Fliers
Marketing & Sales Promotion Techniques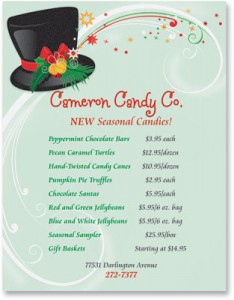 Designing a flyer for a holiday event needs to be done in a way that will draw people in and make them want to go. Everything from the wording to the colors must be pleasing and really explain what the event is about. With a little thought and creativity, you can design a Christmas flyer that is perfect for your event. PaperDirect's festive holiday border paper is perfect for all types of Christmas fliers.
First, choose the holiday border paper you love the most and go for classic holiday colors like reds and greens; be sure the graphics don't take away from your message.
Choose the border the goes with the event you're announcing. For example, if the event will have a tree trimming, use a Christmas tree border; if the event involves presents, use wrapped gifts as a border. Make sure the border has bright and vibrant colors that will look great in the background.
Choose a decorative but easy to read font. A script font can work well as long as it is not too elaborate so that people don't have to struggle to decipher the information.
Include all the pertinent information people will need to know. We suggesting putting the event at the top center of the flyer in a larger font, followed by the rest of the wording. Be sure to include all relevant information such as what will be at the event, the time, date, location, attire, and any other information you think your guests will need to know.
Add a photo or clip art on the bottom of the flyer. One option is to use a photo pertaining to the event, such as a photo of the venue or a pile of Christmas gifts.
Print a test page before printing all the flyers. The flyer on the screen can look very different from what will actually print out on the paper, and when it's perfect and just the way you want it, print as many copies as you need or let the PaperDirect do this for you!
PaperDirect is your online shopping source for everything you need this holiday season from Christmas invitations to Christmas thank you cards.