Innovative Resume Ideas for a Digital World
Designing Your Business Communication
In the past, we have posted blogs offering resume tips and ideas on how to get your resume noticed when it's in a stack of hundreds or even thousands for ONE position. As you surely have noticed, the way in which resumes are being composed, sent and responded to is changing as the world becomes more digital and communication takes place electronically more often than on paper or in person.
In addition to the traditional paper resume, there are other ways to summarize your experience and knowledge. Depending on your situation, you might want to explore video resumes or VisualCV's (curriculum vitae).
Innovative Resume Ideas
Video Resumes
Video resumes have recently emerged as an appealing option, but they require a lot of work and patience. Making a video resume of poor quality will hurt your chances of landing the job. Be sure you know what you're doing or enlist the help of someone with video-making experience. A video resume could be a part of an overall portfolio management strategy; however, having a video resume does not cancel out other options.
In fact, a video resume can act to enhance your online presence in case a potential employer is searching for your information across the web. A video resume may serve as a useful supplement to your LinkedIn profile or social media professional pages. For an innovative resume idea that works when done well, consider adding a video resume to your current professional profile, but make sure the production quality is good and that the video accurately portrays your professional experiences and goals.
VisualCVs
A VisualCV allows you to pull all types of interactive content into a traditional resume format with additional links to blog posts, Twitter accounts, videos, presentations and the like. You can also add charts and graphs to enhance the look of the CV. It serves as a great digital portfolio and can really jazz up a traditional resume. Your VisualCV does much more than communicate who you are and what you do to potential employers; it's a tool that can enhance everything from your professional and social networking to your blog and web bio.
A VisualCV differentiates you in competitive ways that a traditional resume can't. With its breakthrough features and smart, simple format, this exciting new way of communicating who you are and what your skills are may put you ahead of the pack of job seekers.
A VisualCV allows you to update your online communities without visiting each site; instead, you can make changes to your VisualCV and send it to each site at the same time making updates all at once. You can update and share your VisualCV with friends and colleagues on LinkedIn, Twitter and Facebook. You can important contacts from your address books, and you can import LinkedIn and Facebook contacts for shares, forwards and invites.
Also, add a link to your VisualCV in any online resume or job-posting site, and recruiters will find you faster in their search. Companies will get an immediate overview of you by clicking the URL to your VisualCV. By giving employers instant access to your latest credentials, you will surely stand out, and your VisualCV always tracks results directly back to you, so you know which employer has seen your information.
Once your VisualCV is indexed in search engines like Google and Yahoo anyone who searches your name will find your VisualCV, and because you can update it any time, all viewers will see your latest version.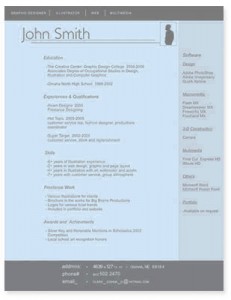 Technology and new opportunities provide a number of innovative resume ideas. Long gone are the days where you only had one choice for how to make a resume–paper. While it might be a good idea to maintain the traditional format for some positions and order your resume paper from PaperDirect's large selection of high quality resume paper of various colors and textures, some positions may require a little more creativity with your resume. If you do need to provide a traditional resume, be sure to keep it up to date and make sure you can access it quickly by keeping a copy on your favorite file storage app like Google Docs or Box.
Remember to shop PaperDirect's huge online store for everything you need for your business including letterhead, envelopes, business cards and brochures.