These Low Cost Marketing Ideas Really Work
Marketing & Sales Promotion Techniques
In tough economic times, business have got to find ways to market that don't cost a lot of money. For many small businesses, there's just no room in the budget for costly advertising campaigns. With some hard work, ingenuity, diligence and passion, small business owners and managers can come up with low cost marketing ideas that really work. How will you know they work? The proof will be in the pudding–and the pudding is your profit margins.
Marketing Ideas That Work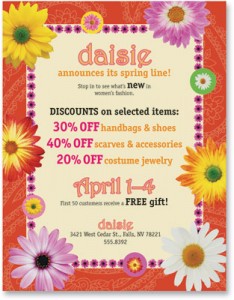 StartUpNation is a website that offers insight into everything you need to know to build a business. Its small business expert blog offers trends, tips and real-life stories from industry experts on how to make it in the highly competitive workplace where effective marketing is one of the most important, if not THE most important keys to success.
Fliers, which can be purchased online at PaperDirect, are an inexpensive way to reach a lot of people in a short amount of time. You can create fliers with your business' information, special deals and images of products and distribute them around highly-trafficked areas such as malls, grocery stores, college campuses, stadiums and large parking lots. Offer an incentive on the flier such as "Present this flier and receive 10% off your first purchase."
Contact local clubs and professional organizations listed in local newspapers and online and offer to speak at their gatherings about your new business. Tell the group about yourself and the products and services offered by your company. Be prepared to answer questions and hand out coupons and loyalty cards. Announce in local publications and online when you'll be speaking and make your presentation fun and engaging. Be prepared as there's nothing worse than a boring, unprepared public speaker. Keep your audience interested and pass out free samples to those in attendance. By making regular public appearances, you get in front of a large number of potential clients/customers and quickly build your business without spending a great deal of money.
Enlist the help of social media experts. Hire PR and social media interns to handle those areas of our marketing; they can help with everything from writing press releases to contacting the media . Social media interns, who often work for free or for a very low wage to gain experience and build their resume, will help gain Twitter followers, acquire more "Likes" on Facebook, interact with Facebook followers and start discussions on LinkedIn, all crucial to the success of any 21st century business.
Write press releases. Just a few magazines, newspapers, and national TV stations picking up your story can improve your company's local and national presence in record time.
Want to read more marketing ideas that really work? Check out these recent PaperDirect blogs about how to successfully market your business without breaking the bank: