Get noticed this summer: Patriotic banners sell your business
Marketing & Sales Promotion Techniques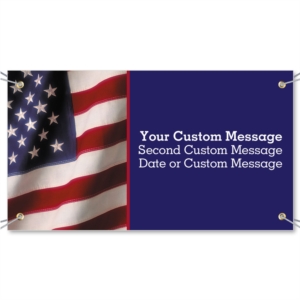 Phew! As the sun shines brighter and the days become longer, neighborhoods come alive with activity. Grills are dusted off, community pools are packed, the AC hums happily, and the strawberries taste absolutely delicious! The summer sizzle is upon us, and with it comes a wonderful opportunity for businesses to get noticed. While you don't have to stand outside your storefront waving a star-spangled banner, a patriotic banner from PaperDirect can create a festive mood and show customers your love for America.
Choices, choices, choices… Just as there are so many activities to choose from, PaperDirect offers a huge assortment of banners to fit your needs. Designs such as "Patriotic,"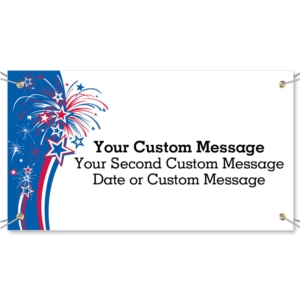 "Shooting Stars," "Festive Fireworks," "Freedom" and more bring out the spirit of the season while leaving plenty of room to add your personal touch. Small and medium-sized vertical banners are perfect for window and door displays; while extra large horizontal banners draw attention from afar. All banners can be printed on heavy-duty weather-resistant vinyl, and come with metal grommets and ropes to help set up your display.
Consistency is key to any successful endeavor, be it grilling burgers or running a shop. Make sure the inside of your business is just as patriotic as the outside. Indoor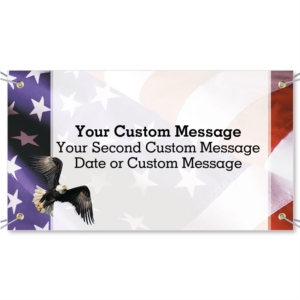 banners convey your message with charm and atmosphere. Made from 100% woven premium polyester fabric, indoor banners can be customized just like their outdoor counterparts. Play with the layout, fonts and colors online, and add logos and photos at no extra charge. Banner stands are also available to help display your message in the most appealing way.
PaperDirect loves paper, but we love other materials, too! Rest assured that our vinyl and fabric banners are as high-quality as our invitations and business cards. While we are as proud of our designs as we are of our country, we believe it's your personal touch that really matters. Customize away, and have a safe and patriotic holiday!