Custom Dental Magnet Ideas
Designing Your Business Communication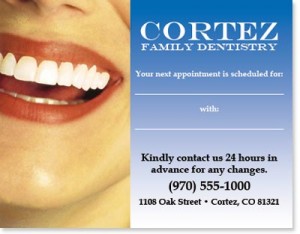 Let's face it – going to the dentist isn't something that everyone looks forward to. At best, it's a minor inconvenience to maintain good oral hygiene. And at worst it's, well, a nightmare way to spend an hour or two. So being that your customers aren't likely to be lining up to go to the dentist out of their own free will, and instead are doing it out of necessity, it can be hard for your dental practice to stand out from the competition.
That's where dental custom magnets can offer your practice a competitive advantage. How? Because your customers will remember you each and every time they go to open their refrigerator door. And because such magnets are custom, you can get as creative as you want with them. Here are some great dental magnets that offices are sending home with their patients:
Magnets with a tooth! Have your receptionist write in the date on the magnet so your patient will remember their next teeth cleaning.
Create a year-long, month-by-month calendar for each patient, noting how many times per year the ideal patient should have certain services done, like teeth cleaning, deep gum cleaning, bite checks, etc.
A magnet in the shape of a toothbrush or toothpaste container, which can serve as a reminder to patients to brush and floss daily.
No matter what type of dental custom magnets you choose, always be sure to have the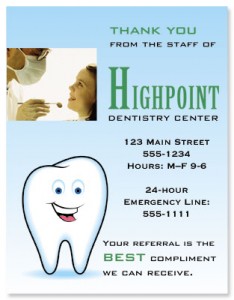 phone number, website and address of your practice somewhere on them, so the patient can easily make that phone call to set up their next appointment.
While such dental custom magnets might not make going to the dentist seem like a day at the amusement park, they serve as nice takeaways for the patient and even better reminders on when patients are due for certain services. And let's face it – the refrigerator door is something that receives a lot of attention on a daily basis, so you can rest assured that once a magnet is placed there, it will be seen often.
For more information on dental custom magnets and how they can give your practice a competitive advantage over the other practices in your area, contact Paper Direct today!