5 Marketing Tips that Push the Envelope into the New Year
Marketing & Sales Promotion Techniques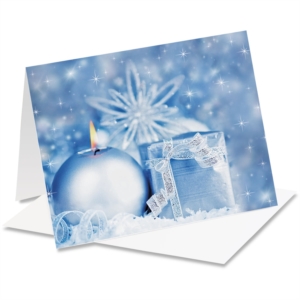 Good marketing can make a world of difference for your company. It can be the difference between generating new business, retaining customers and creating repeat customers to becoming easily forgettable and losing business to your competition. So with that in mind, it's important to create impactful marketing that's different from your competitors – but in a good way. And it's important to begin thinking about this marketing around the holidays when the current year ends and the new one is in the planning process.
Here's a look at five marketing tips for the new year:
Stay in touch with customers: Now is not the time to forget about the customers that have helped grow your business to what it is today. Keep communicating to show them how much you value them. A simple, yet effective, way to accomplish this is by sending Christmas thank you notes out to your loyal customer base.
Target procrastinators: There are lots of procrastinators out there, people who have waited until the last minute to take action on something or who have let certain things slip by the wayside. Target them. Make sure that they know that just because Christmas – and the year – is over, that your great deals are not. This is a great way to raise product and brand awareness during traditionally slow sales times.
Host a party: Consider taking our first marketing tip here a step further. Instead of just sending a Christmas thank you note, send a Christmas thank you invitation – to a special event you're hosting for customers. Provide food, drinks and entertainment and be sure to have plenty of your products on hand in case your guests have the urge to buy. It's great for networking, showing appreciation and boosting sales.
Get musical: A good, catchy jingle or tune can have your customer singing about you all day long. Experiment with creating one that's sure to do the trick.
Poll your customers: Ever wonder how your customers want to be reached with new information? Ask them! It's easier than ever to host polls on social media channels, like Facebook. Show that you value their input by polling them and then analyze the results and tinker with your marketing plan accordingly. It's important to reach your customers on the channels they're using.