How Small Businesses can Compete Online
In the past, when large businesses competed head-to-head with smaller ones, the winner was the larger businesses. However, today, thanks to many small businesses online presence, they are no longer being left in the dust by big corporations. Read below to learn how small businesses can compete online today:
Be Entertaining:
Consumers are more frequently surfing the web for no other reason than being entertained.
You as a small business owner can tap into the entertainment world by using social media and YouTube to create funny, engaging, memorial advertisements or videos for your company. Such a video was placed on YouTube recently and is worth a look.
Had you ever heard of PooPouri before this video went viral on YouTube? We didn't think so.
But because of their smart marketing, they were able to expose themselves to a huge audience on a level with huge corporations.
The current generation of consumers are essentially glued to their media devices at all times. Therefore, using medians such as YouTube, Twitter and Facebook to get your business's name in front of thousands of people is a great idea and one way in which you can compete with larger businesses that have huge advertising budgets.
Treating customers better than large businesses do:
Regardless of how big your business, how you treat customers will ultimately determine your success, and that is no different in regards to your online presence.
In other words, if you have a customer who reviews your business badly, contacting them and offering a solution to their issue–if possible–is wise. If you can make the fact that you have worked to rectify the situation public, that is even better. It will show other people that you are willing to work to keep your customers happy, and that you as a small business owner care about each of your customers.
Welcome and encourage online reviews: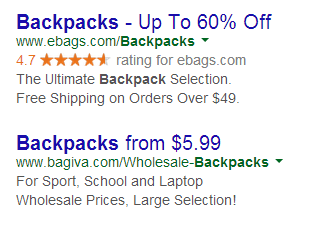 Speaking of the reviews, which were just mentioned above, they are a great way to gain an advantage over large businesses. To encourage reviews, simply have a place on your website that will give your customers the ability to easily express their opinions on either the service that was rendered or the product sold.
What about bad reviews?
If you are worried about bad reviews, don't, because according to many studies, bad reviews do not in fact make your business look that bad. In fact, when customers see all positive reviews and no negative, they may begin to wonder if you have paid for your positive reviews.
Therefore, a good mix of mostly positive with a few negative sprinkled in is actually what you want, so don't fear bad reviews, because if you do good work, ultimately, your reviews will reflect that.
By accomplishing all the elements listed above, you can grow your business's presence and easily compete with large businesses online. However, don't forget that real-world advertising is still important.To assure your clients are seeing you in a positive light, shop online at PaperDirect for your business needs.