Small Business Tip #2 – Competitive Analysis
Designing Your Business Communication

There's no need to reinvent the wheel when you're a small business. Look to what both you and your competitors did last holiday season to drive sales when planning this year's holiday promotion.
Ask yourself:
What worked well for your company?
What worked well for the competition?
What mistakes were made?
Take time to analyze the successes or failures from the past to determine what approach you should take this year. One way to get additional insight from both your customers and those of the competition is to send out a simple holiday postcard asking for feedback. Or direct recipients to a website with a 30-second survey and the chance to win a small prize.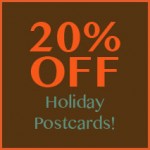 Paper Direct can help you get started! This week enjoy 20% off holiday postcards. Enter code WCRT1014B at checkout to get this special discount.
See our entire guide on small business ideas for Christmas here.