Small Business Tip #3 – Plan your Promotion
Marketing & Sales Promotion Techniques

When you do something well, you want to do it again and again and again. This holiday season, draw on your most successful past holiday promotions for inspiration. Sometimes the wackiest ideas — like hosting a silly photo contest online or having an open house at the business with a carnival theme — are worth repeating.
Bring it Back
Start by pulling stats from those successful campaigns. What was the budget? How many people participated? What was the top selling product based on the promotion? How many new customers were added to the database after the event?
Once you determine which elements were winners, incorporate them into this year's holiday promotion. If the campaign includes a physical gathering of potential customers, greet them with professionally printed holiday programs. This looks more festive than handing out business cards — and still puts all your company details in their grasp.
Is This your First Holiday Promotion?
If you didn't participate in a holiday promotion last year and don't have anything to pull from, don't worry. Some inexpensive promotions include:
Social Media Contests
Good Deeds or Charitable Donations
Black Friday Sale
Buy One Get One Free Offers
Community Dinner or Night Out
Mailers with coupons or exclusive offers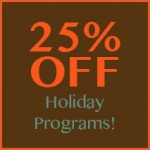 This week at Paper Direct, you can get 25% off holiday programs by entering code WCRT1014B at checkout. Enjoy!
 View our entire small business guide for Christmas promotions!