Small Business Tip #4 – Get Personal
Marketing & Sales Promotion Techniques
Remember how excited you were last time you received a handwritten card in the mail?
Bring that same joy to your customers and partners this Christmas.

To your Customers:
If your small business is growing in leaps and bounds, and you simply have too many customers in your database to address that many envelopes, wow them with a special customer appreciation postcard instead.
Offer a special BOGO sale or major discount on the purchase of one item during the month of December. Here's how to get these promotions out in the world:
Have a beefy mailing list? Mail the postcards. This super personal touch will surely grab the attention of your past customers.
Personally hand them to customers during November as they shop in your store. Either by slipping them in your customers bags as they check out, or stacking them near the checkout.
Create a Facebook offer. Offering a coupon on a platform like Facebook will get people to like your social profiles which allows you to re-market later on.
To Your Partners:
This holiday season take the time to reach out and thank the people who have helped your small business be successful. Stock the printer with festive paper and type a heartfelt letter of gratitude. Then tuck the signed notes into handwritten envelopes and send them out!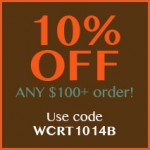 Are you ready to get started? This week we're offering 15% off Holiday Border Papers.
Use code WCRT1014B at checkout to get the discount.
Also view our entire small business guide for Christmas planning.